On April 15, 2020 the April 2020 Duke/CFO Global Business Outlook was released.  It contains a variety of statistics regarding how CFOs view business and economic conditions.
In this CFO survey press release, I found the following to be the most notable excerpts – although I don't necessarily agree with them:
The CFO Optimism Index fell to 42 (on a scale from 0 to 100) in the second half of March, which reflects CFO sentiment is as bleak as it was during the 2008 financial crisis. "The Optimism Index was at 59 in the first half of March before plummeting to the low 40s in the second half of the month," said John Graham, a finance professor at Duke University's Fuqua School of Business and director of the survey. "The index has proven to be a good predictor of future GDP and unemployment, anticipating that the economy will perform as poorly in 2020 as it did during the Great Recession."

"We have already seen a bigger jump in unemployment in the past three weeks than during the entire Great Recession, so there is good reason why optimism has fallen," said Campbell Harvey, a founding director of the survey and Fuqua finance professor. "CFOs are fighting their own war for the survival of their companies."
also:
"Things could get worse," Graham said. "Even with the pessimism expressed during the second half of March, only about one-third of U.S. firms believed that they face large financial risk due to COVID-19, while about half said they faced medium risk. Should more companies realize that they in fact face large financial risk due to the virus, hiring and spending numbers will get even worse."

The survey asked CFOs to report two forecasts of sales revenue for their own firms — one being their best estimate for revenue in the coming year and the second being revenue forecast under what they would consider "very bad" conditions. During the first quarter, firms' best estimate is that sales revenue will increase 4% in the next year; under "very bad" conditions, they expect to see a 13.3% decrease in sales revenue.
The CFO survey contains two Optimism Index charts, with the bottom chart showing U.S. Optimism (with regard to the economy) at 42, as seen below: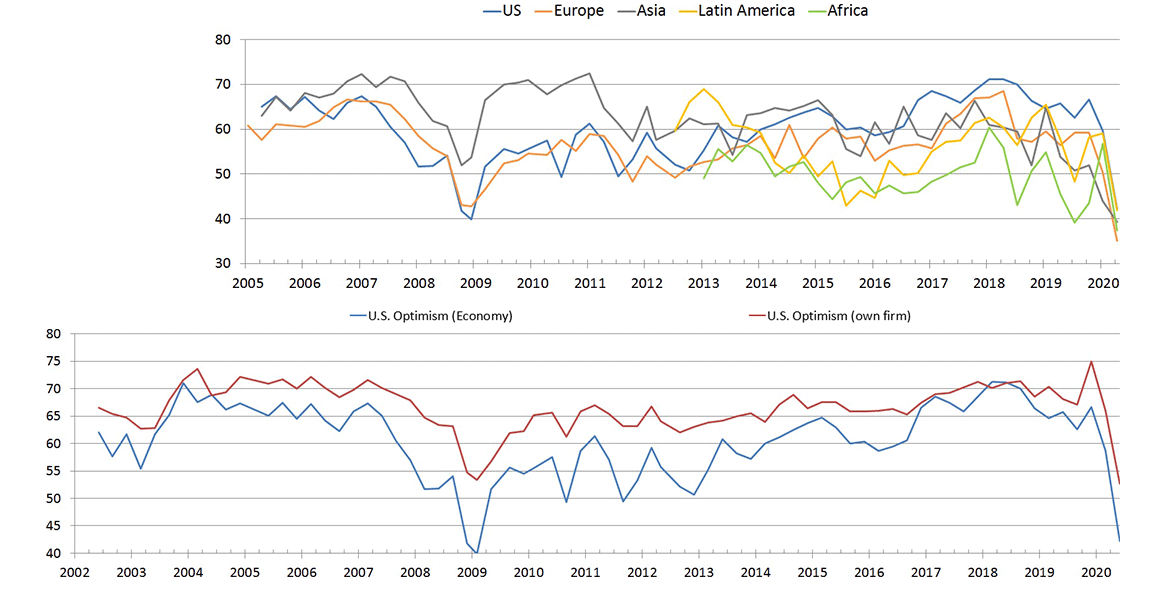 —
It should be interesting to see how well the CFOs predict business and economic conditions going forward. I discussed past various aspects of this, and the importance of these predictions, in the July 9, 2010 post titled "The Business Environment".
(past posts on CEO and CFO surveys can be found under the "CFO and CEO Confidence" tag)
_____
I post various economic forecasts because I believe they should be carefully monitored. However, as those familiar with this site are aware, I do not necessarily agree with many of the consensus estimates and much of the commentary in these forecast surveys.
_____
The Special Note summarizes my overall thoughts about our economic situation
SPX at 2797.46 as this post is written