Here is an update on various indicators that are supposed to predict and/or depict economic activity.  These indicators have been discussed in previous blog posts:
The August Chicago Fed National Activity Index (CFNAI)(pdf) updated as of August 23, 2010: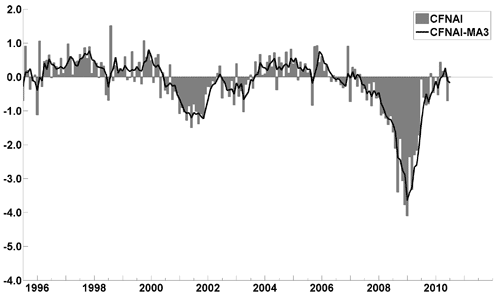 The Consumer Metrics Institute Contraction Watch: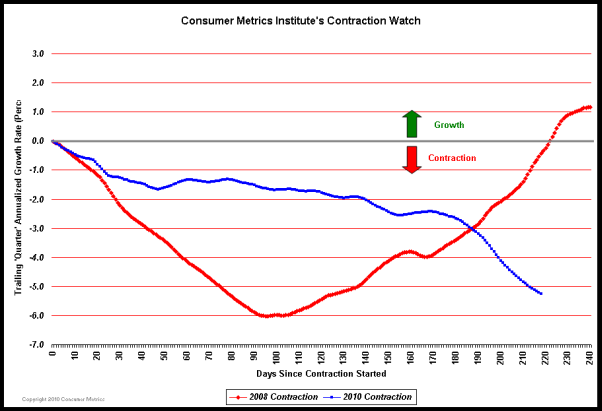 The USA TODAY/IHS Global Insight Economic Outlook Index:
An excerpt from August 16, 2010:
"The July 28 update of the USA TODAY/IHS Global Insight Economic Outlook Index shows real GDP growth, at a six-month annualized growth rate, slowing to 2.5% in December. The end of government stimulus spending and inventory buildup combined with continuing high unemployment, a weak housing market, tight credit and high debt are behind the slowdown."
The ECRI WLI (Weekly Leading Index):
As of 8/13/10 the WLI was at 120.8 and the WLI, Gr. was at -10.0%.  A chart of the growth rates of the Weekly Leading and Weekly Coincident Indexes: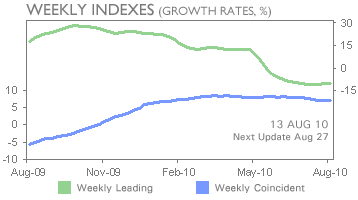 The Dow Jones ESI (Economic Sentiment Indicator):
The Indicator as of August 2 was at 42.3, as seen below:
An excerpt from the August 2 Press Release:
"The Dow Jones Economic Sentiment Indicator (ESI) has given an upbeat signal on the economy, registering its biggest rise since October and a return to the level of June 2008."
also:
""The Dow Jones ESI's rise suggests the prospects of a double dip recession have receded," Dow Jones Newswires "Money Talks" Columnist Alen Mattich said. "The ESI is still at a very low level, just above where it has in the past signalled a drop into recession. The indicator, however, has been steadily climbing since April 2010 which implies continued economic improvement."
also:
"The ESI's back-testing to 1990 shows that the ESI clearly highlighted the risk that the U.S. economy was sliding into recession in 2001 and 2008 and suggests the indicator can help predict economic turning points as much as seven months in advance of other indicators."
The Aruoba-Diebold-Scotti Business Conditions (ADS) Index:
Here is the latest chart, updated through 8-14-10: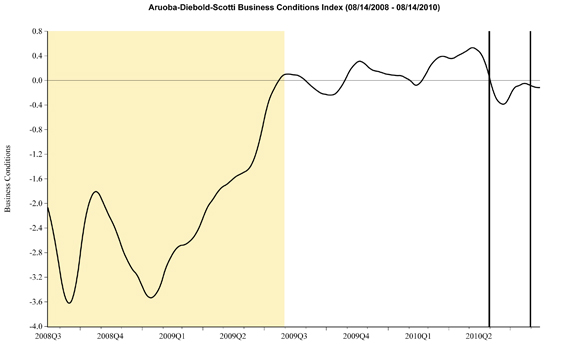 The Conference Board Leading (LEI) and Coincident (CEI) Economic Indexes:
As per the August 19 release, the LEI was at 109.8 and the CEI was at 101.4 in July.
An excerpt from the August 19, 2010 Press Release:
""The indicators point to a slow expansion through the end of the year," says Ken Goldstein, economist at The Conference Board."
"New Financial Conditions Index"
I wrote a post concerning this index on 3/10/10.  There is currently no updated value available.
_________
I post various indicators and indices because I believe they should be carefully monitored.  However, as those familiar with this blog are aware, I do not necessarily agree with what they depict or imply.
SPX at 1067.36 as this post is written